by Dominic Corva, Executive Director CASP
WASHINGTON: It's been a while since we've looked at the progression of I 502 Retail Cannabis landscape, pictured above in the map by Steve Hyde.  The conjunctural interest is driven by our need to understand how fast I 502 retail stores are currently being approved, now that the availability of supply is no longer a barrier to entry. We expected more retailers to open up once this happened, and in the trendline below we see that around January 1, 2015, the pace of new approvals began to exceed the overall trend since July 6.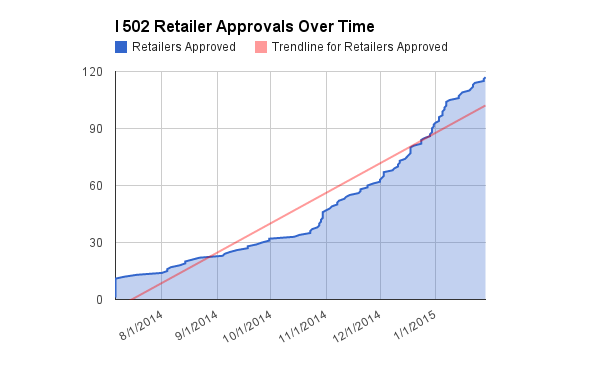 There are lots of other factors that influence retail decisions to go into business, of course. The availability of affordable retail space for lottery winners, and subsequent lottery replacements for the 25 retail applicants who for one reason or another failed to cash in on their lottery number, is the most significant variable. This of course is also influenced by jurisdictional bans and moratoria that represent a ceiling on how many of the 334 retail slots can possibly open, even given approval.
It's also important to note that many "approved" applicants are not yet open, because it takes a little while to open retail doors once approved. As of February 3, 2015, 117 retail stores have been approved. Dozens of that number are not yet open, and we anticipate that their arrival in the market will help clear the harvest bounty. It is too early to say how much.
But one thing we can say with some confidence, is that the flip side to the Producer/Processor glut problem is that prices are down and quite possibly, I 502 recreational stores may be picking up consumers for whom I 502 product is a reasonable substitute for medical access point product, if price of flower is the main obstacle to switching over. Of course, there's a lot more to it than that, but the closer retail prices for comparable product for comparable consumers (ie, not patients), the easier it will be for I 502 producers to clear inventory.