MAINE: Marijuana is moving on "greased tracks" toward legalization, according to the advocacy group that's been riding the train for more than 40 years.
The reason is a stark shift in public opinion, said Allen St. Pierre, executive director of the National Organization for the Reform of Marijuana Laws.  On Tuesday, Portland, Maine, followed Washington and Colorado's lead and legalized recreational use of the drug, while the Michigan cities of Lansing, Jackson and Ferndale resoundingly voted to let people older than 21 possess an ounce of the green stuff on private property.
The municipal votes may seem like small potatoes, but St. Pierre said that 2013 isn't just an off-year for elections, it's an "off-off-year."
"I absolutely pinch myself every single day, affirming that these changes are happening and they appear long-lasting," he said.
In Colorado, where voters OK'd recreational use in last year's election, another measure to tax marijuana — opposed by some pot proponents — also passed Tuesday.
"Here on K Street, that's a victory," he said, referring to the lobbyist row in Washington where NORML is headquartered. "(Not taxing marijuana) would've created a whole heap of mess with the federal government. Institutionally, strategically speaking, marijuana isn't going to become legal if it's not being taxed."
While public opinion on legalization has changed drastically since the 1960s, St. Pierre notes there has been an unprecedented spike in approval ratings just in the past year, reaching 58%, according to a Gallup Poll last month. The number marks a 10% increase since Colorado and Washington voted to legalize it, "and the legal momentum shows no sign of abating," according to Gallup.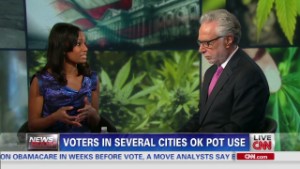 More cities OK pot use
Federal legalization isn't necessarily imminent, but the Justice Department seems to lack the appetite to take down Colorado and Washington, which it could easily do under the current U.S. Code. In September, Sen. Patrick Leahy held a hearing on the conflicts between state and federal laws after Deputy Attorney General James Cole issued a memo saying the feds would stand down in all but a handful of instances when it came to state marijuana laws.
"That absolutely supercharged states around the country — to use a bad pun here — to say, 'We have a green light,' " St. Pierre said.
St. Pierre, who has been with NORML for 23 years and has served as its director since 2005, said he's witnessed a "total sea change in the time I've been here."
Six years ago, politicians were returning NORML's donations, he said. Today, they not only accept them, but request them — along with endorsements and assistance writing marijuana-related legislation.
There's even a bipartisan group of legislators St. Pierre calls the "cannabis caucus," which includes Reps. Jared Polis, Earl Blumenauer and Dana Rohrabacher and Sens. Rand Paul and Sheldon Whitehouse.
What's lighting the fire?
Though the tidal shift in public opinion is largely due to economics — people think, "Schools, bridges, arresting people for marijuana — which one can we compromise on today?" — there are a host of reasons for the rapid change in opinion, he said.
Not only are sheer demographics playing a role, as the Brookings Institution pointed out earlier this year, but proponents have also concentrated on limiting access, public safety, rigorous alcohol-like enforcement and ensuring tax dollars are directed to the public good — issues which appeal to women, who have historically been less opposed than men to pot prohibition, St. Pierre said.
It also didn't hurt that that a "popular, ethical doctor," CNN's Sanjay Gupta, issued in August a mea culpa for denouncing marijuana's viability in the past, St. Pierre said.
The same week Gupta reversed his stance on medical marijuana, Attorney General Eric Holder announced an initiative to curb mandatory minimum drug sentences and a federal judge called New York City's stop-and-frisk policy unconstitutional, indicating an opinion shift on national drug policy in general. (A federal courtreinstated stop-and-frisk last week while appeals are heard).
Experts told CNN then that the nation had moved from the abstract matter of "if" to the more tangible debate over "how."
"Between Attorney General Holder's announcement, the decision made on stop-and-frisk and Dr. Gupta coming out with his documentary, it was a big week for drug policy," Beau Kilmer, co-director of the RAND Drug Policy Research Center and co-author of "Marijuana Legalization: What Everyone Needs to Know," said in August.
When 49% of voters in Arkansas are voting for legal pot, we aren't in Kansas anymore.
Mark Kleiman, UCLA public policy professor
Peruse the Marijuana Majority website and you'll see decrying pot prohibition is no longer confined to the convictions of Cheech and Chong.
Today's debate involves an unlikely alliance that of conservatives Pat Robertson and Sarah Palin and rapper Snoop Lion (aka Snoop Dogg), blogger Arianna Huffington and Jon Stewart of "The Daily Show."
In June, the U.S. Conference of Mayors cited organized crime, a national change in attitude, the efficacy of medical marijuana and exorbitant costs to local governments in its resolution supporting "states setting their own marijuana policies," a stance similar to the one endorsed by the National Lawyers Guild and the Red Cross.